249 caravans and motorhomes now in stock
All our stock is 70 point checked and prepared before sale
Explore our vehicle display in its tranquil 16 acre woodland site
The new 2023 Giottiline motorhome ranges
The 2023 Giottiline motorhome ranges
Discover the new Giottiline Siena & Therry motorhome ranges...
Introducing the Giottiline Siena, & Giottiline Therry exclusive for 2023, you'll be astounded with the premium luxury included in this brand-new motorhomes.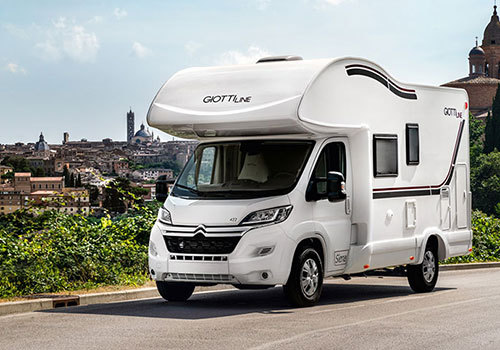 Giottiline Siena Motorhomes
Exclusive to our 2023 forecourt...
Returning to Wandahome for 2023 is the Giottiline Siena. Part of the Rapido Group, the Giottiline has been producing top-quality motorhomes in in the heart of the Tuscan countryside since 2004. As the primary Giottiline dealership in the UK, we're excited to be stocking the exceptional Giottiline Siena motorhome range, consisting of over-cab coachbuilts and low-profile design.
The nine models in the Giottiline Siena range are made up of a number of varying layouts, including island beds, transverse doubles, French beds and twin bed options. From two to six berths, these motorhomes are perfect for couples and families alike, whether in the UK or in further afield. What's more, the Siena offers a whole host of high-spec features - from large garage and Truma heating to fold out central tables and LED lighting for the ultimate home-from-home experience. If you want to test drive one of these exquisite new Giottiline Siena motorhomes, then contact us today for more information.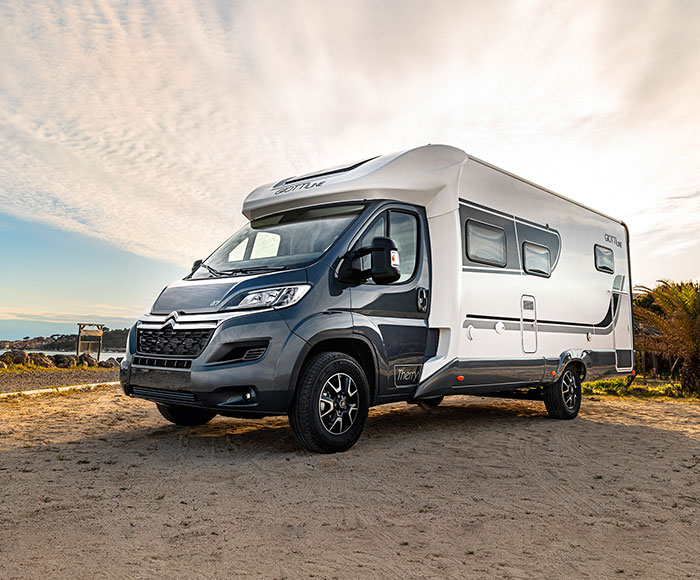 Giottiline Therry Motorhomes
Exclusive to our 2023 forecourt...
We're proud to welcome the Giottiline Therry motorhome range, new for 2023, for the first time here at Wandahome. Comprised of three low-profile and one coachbuilt model, the Therry range offers something for everyone – whether you're looking for a couple's getaway or family adventure. With the option to choose from two to six berths, there's plenty of space for everyone to make the most of on the road touring.
Built on either the Citroen Jumper or the Fiat Ducato chassis, the Giottiline Therry showcases premium motorhome engineering and performance, complete with sleek exterior graphics. Inside, get the full motorhoming experience with spacious living areas, complete with family dining spaces, private bedrooms, three-burner stoves and maxi garages for all that outdoor gear. Enjoy comfortable travel all year round, with Truma heating, fresh water tank and cab air conditioning. If you're looking for more information or to book a viewing, get in touch with us today and we'd be more than happy to assist you.