238 caravans and motorhomes now in stock
All our stock is 70 point checked and prepared before sale
Explore our vehicle display in its tranquil 16 acre woodland site
The new 2022 Giottiline motorhome ranges
The 2022 Giottiline motorhome ranges
Discover the new Giottiline Siena motorhome range...
Introducing the Giottiline Siena, exclusive for 2022, you'll be astounded with the premium luxury included in this brand-new motorhomes.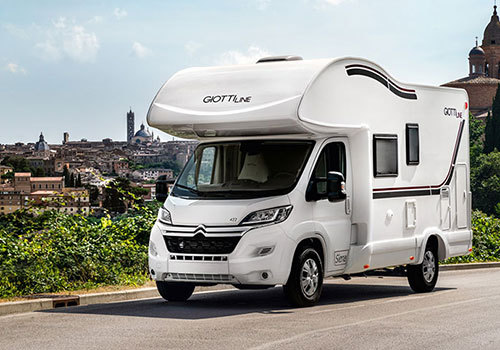 Giottiline Siena Motorhomes
Exclusive to our 2022 forecourt...
Introducing the brand-new range for 2022 now at Wandahome, the Giottiline Siena. Our latest franchise, the Giottiline is part of the Rapido group, with models created and manufactured in the heart of the Tuscan countryside. As one of only two UK dealers to now stock this franchise we're exciting to be unveiling what we believe is a great addition to the Wandahome collection. The Giottiline Siena motorhome range is made up of two profiles, the 'Over-cab' and the 'Low-profile' which combine to create an eleven model collection unparalleled in style and artistic design.
The seven models in the Giottiline Siena low-profile configuration are made up of a number of varying layouts, including island beds, transverse doubles, twin beds, French beds and even two bunk bed options. From four to six-berths these motorhomes are perfect for family holidays whether they be in the UK or longer touring trips into continental Europe. The four 'Over-cab' models, the 422, 430, 435 and 440 have a huge variety of sleeping arrangements as well as king size electric drop down beds in the over cab area, adding to the overall feeling of space and convenience. If you want to test drive one of these exquisite new Giottiline Siena motorhomes models, then contact us today for more info.