252 caravans and motorhomes now in stock
All our stock is 70 point checked and prepared before sale
Explore our vehicle display in its tranquil 16 acre woodland site
Explore our array of 8ft wide caravans on offer, ideal for family getaways.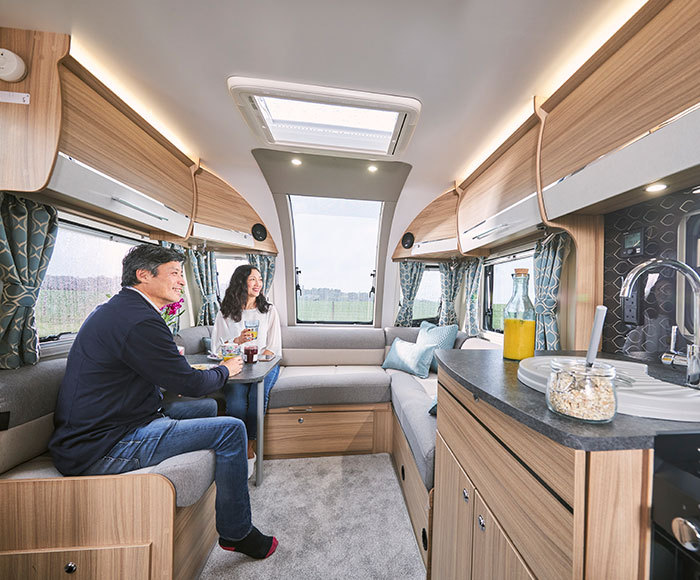 The Wide Appeal of an 8ft Caravan
Spacious and Versatile
The ever-growing appeal of an 8ft caravan is evident in today's market with most of the UK's leading caravan manufacturers now offering these models in their line-ups, to cater to for every adventure. With our 8ft wide caravan models offering unrivalled space - comfort and practicality are guaranteed within. Offering families spaciousness for privacy, giving couples room to entertain guests and allowing friends plenty of leeway for a highly competitive games night, our 8ft caravans adapt to everyone's needs.
Each model, range and brand boasts unique features within each of their larger 8ft caravans. Whether it be the luxury of a U-shaped lounge, the privacy of a separate rear bedroom, the convenience of a large kitchen space or the ability to host more guests than ever before, each unique caravan offers an individual experience. Here at Wandahome we are delighted to offer you 8ft caravan options from renowned brands such as Swift, and Bailey. Browse our full stock and enquire online to arrange a viewing.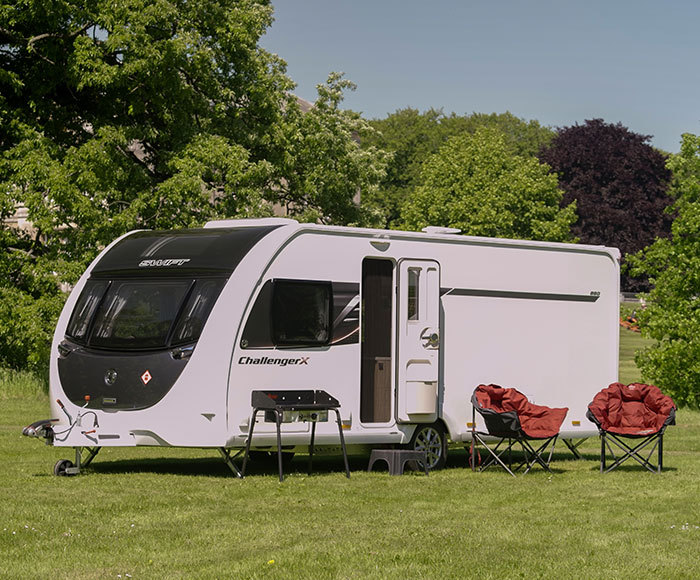 8ft Wide Swift Caravans
Explore without limits
Swift's range of 8ft caravans are designed to give you optimal space and comfort whilst you explore the beauty of the outdoors. Built to comfortably host all of your family staycations, our selection of 8ft wide Swift caravan models give you the hotel feel wherever you venture. Packed with an array of features and ingenious designs, Swift caravans are built with your journey in mind, and with the 8ft caravans built to accommodate even the biggest adventures, the interior layouts continue that purpose through intricate space saving details and storage solutions.
Wandahome's exclusive Swift caravans, the Swift Corniche and the Swift Ace, each host 8ft wide models, and with the luxury of our exclusive design combined with Swift's high-quality build, these caravans aren't to be missed. Our Swift special edition caravans are each designed with a sophisticated interior and high-end specifications that take luxury wherever you venture.
As well as our 8ft special edition caravans, we also stock the Swift Sprite, and Swift Elegance Grande in lavish 8ft models. For unrivalled luxury on the road, explore our 8ft wide Swift caravan ranges online including the Swift Sprite, Swift Elegance Grande, Swift Ace and Swift Corniche and start your next big adventure.
Bailey 8ft Wide Caravans
Bailey Quality for Big Adventures
Bailey is one of the UK's favourite caravan brands, and it only takes a single step inside to realise why. Through high quality craftsmanship, luxury design and innovative layouts, the Bailey 8ft caravan range comes with all the room you need for every adventure, no matter how big.
With a lightweight design, the Bailey Pegasus Grande range offers 8ft wide models for comfortable touring with the whole family. With a range of layouts to choose from, you can make the most of your space in the Pegasus Grande, in whichever way suits you best. Whether you desire a larger lounge area for entertaining, or wish for a luxurious and spacious bedroom, each Pegasus Grande boasts a unique personality to suit each individual adventure within its spacious interior layout.
The Bailey Alicanto Grande also comes into 2022 with 8ft wide models available. With roomy lounge areas and spacious bedrooms, these lavish caravans boast an apartment-like feel with their spacious layouts. Whether you're a couple looking for a luxury escape or a family with a passion for adventure, the Bailey Alicanto Grande is the ideal home-from-home with layouts to suit everyone.
Delve into our full selection of Bailey's 8ft wide caravans online today and contact a member of our team to arrange a viewing.