252 caravans and motorhomes now in stock
All our stock is 70 point checked and prepared before sale
Explore our vehicle display in its tranquil 16 acre woodland site
The 2022 Adria motorhome ranges
The 2022 Adria motorhome ranges
Discover three exciting new Adria motorhome ranges...
Ranges are available at Wandahome include the Adria Compact Supreme, Adria Matrix Plus & Adria Matrix Supreme motorhome ranges.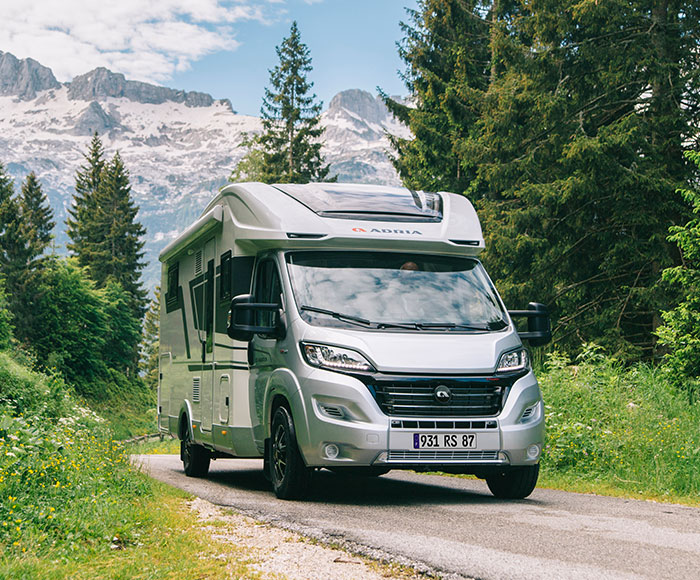 Adria Matrix Supreme and Matrix Plus Motorhomes
Contemporary, luxury living…
For the 2022 season we're pleased to stock the Adria Matrix motorhome range at Wandahome South Cave. This five model, four-berth range, comes in two variants the Matrix Plus and Matrix Supreme, both offer a homely feel with award-winning design and world class manufacturing. There are a choice of sleeping solutions, including island beds on the 670 DC and 670 DC, and all models now include an easy-to-access, drop-down double bed complete with ambient lighting and a comfortable mattress. Separated en-suite style bathrooms provide a 'hotel-like' feel whilst the central ventilated kitchens are the perfect space for cooking an evening meal.
The Adria Matrix motorhome range is divided into the Plus and Supreme specifications, and you get a number of different features with each. The Adria Matrix Plus for instance, gives you a choice of cab colour in white, silver or dark grey, whilst the interior design features 'Alpine white' furniture complete with laminated worktops. There is a large panoramic window which can be opened up for the summer and a Truma heating system for those colder winter nights. With the Adria Matrix Supreme, you get that little bit more. For instance the Heating system is Alde this time, and the worktops are made from premium Fenix NMT material paired with solid wood 'Cashmere' furniture. Despite these small different the specification is to a premium standard on both the Plus and Supreme models so whichever model you choose we're sure that you won't be disappointed with this award-winning range. Contact us today to find out more or arrange a viewing.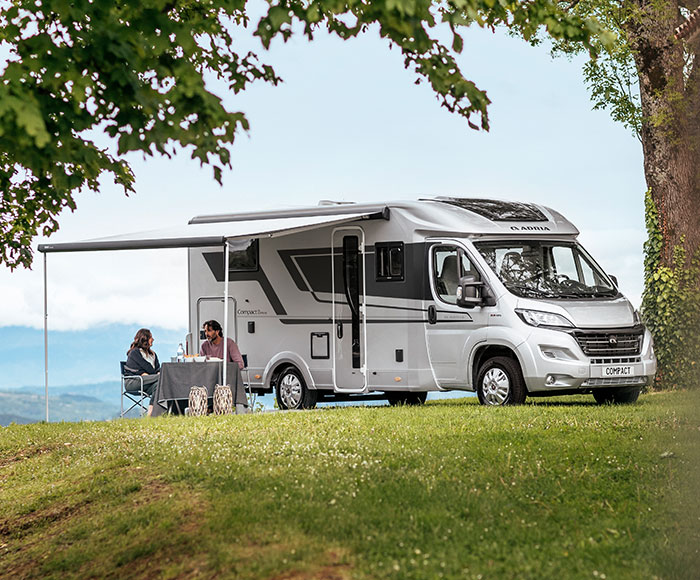 Adria Compact Supreme Motorhomes
Small but perfectly formed…
The Adria Compact Supreme range for 2022 is everything you could wish for from a sub-six motorhome. These slim, sleek, compact vans, offer all of the touring capabilities of a much larger motorhome, ingeniously fitted within a much more convenient space. Four layouts include three, three-berth models and one, two-berth (the Compact SC). Each comes complete with a punchy new Fiat 6D 2.2l engine (with an automatic gearbox upgrade optional), Truma heating as standard, and a contemporary interior with high specification fittings. The 'Sandy White' style furniture complements the chic, soft furnishings to create a calming and relaxing atmosphere. The ingenious use of space means you get everything from a smart kitchen to a duplex bathroom, all within a motorhome which comes in at under 3.5 tons in weight.
The new 2022 Adria Compact supreme motorhome range has been designed with the sporty and adventurous in-mind. The driving capabilities of the powerful engine, low weight and body width of less than 2.12m, mean this motorhome is ideal for 'off-the-beaten-track' adventures as well as, sporting weekends away. Everything has been thought of, including an extra-large garage space for sporting equipment including bicycles, as well as additional upgrades, including a roof-mounted air-conditioning unit, 100w solar panel and tow bar. If it's the luxury of a coachbuilt you're looking for within the dimensions of a panel van, then the Adria Compact Supreme motorhome range is definitely for you! Why not pop along to Wandahome South Cave and find out more today.