313 caravans and motorhomes now in stock
All our stock is 70 point checked and prepared before sale
Explore our vehicle display in its tranquil 16 acre woodland site
The 2023 Adria motorhome ranges
The 2023 Adria motorhome ranges
Discover five exciting new Adria motorhome ranges...
Here at Wandahome, we stock a number of Adria motorhomes for sale, including the Adria Compact, Coral Supreme, Matrix, Sonic & Supersonic motorhome ranges.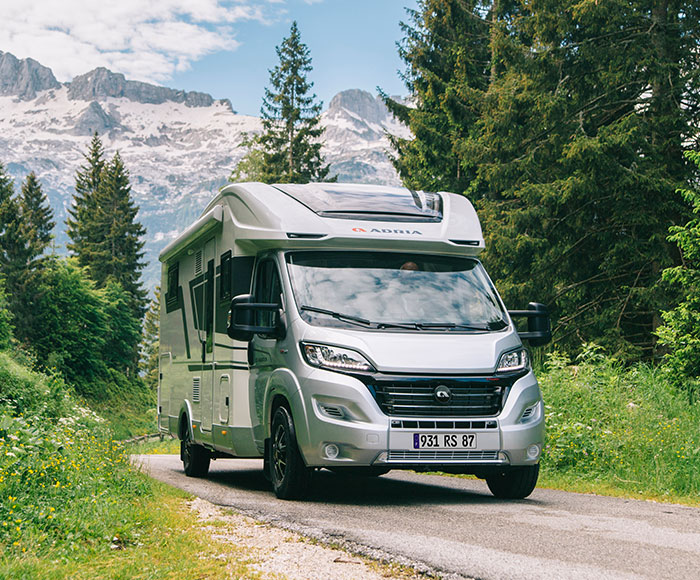 Adria Matrix Axess & Matrix Supreme Motorhomes
Contemporary, luxury living…
Among our range of Adria motorhomes for sale, we're pleased to stock the Adria Matrix range for the 2023 season - here at Wandahome South Cave. This five model / four-berth range comes in two variants: the Matrix Supreme and Matrix Axess. Both of them offer a homely feel, with award-winning design and world class manufacturing. There's a choice of sleeping solutions, including island beds and electric drop-down beds over the cab, complete with a comfortable mattress.
The rear sees a separate en-suite style bathroom / bedroom layout, giving a hotel-like feel, whilst the central ventilated kitchens are the perfect space for cooking an evening meal. The flexibility of either the Matrix Supreme or Axess models gives you a choice of white or silver exteriors, and the size of your motorhome, as well as interior design schemes – including a Cashmere / Moro scheme for the three Supreme models, and Naturale / Cashmere for the three Axess models. The Matrix range features high-spec utilities throughout, including adjustable lighting, large dinette, S-line three-burner kitchen and large bathroom with elegant shower and spotlights. There's also a large panoramic window which can be opened up on those hot summer days, along with Truma heating system for those cold winter nights. Whichever model you choose, we're sure that you won't be disappointed with this award-winning range. Contact us today to find out more or arrange a viewing.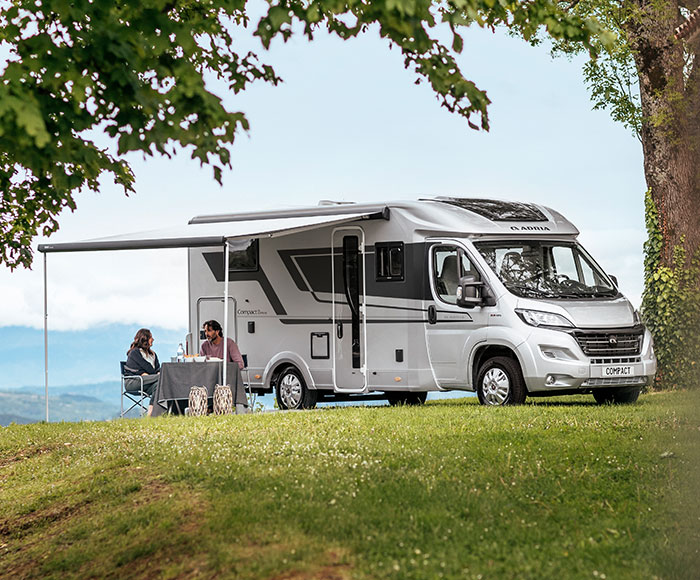 Adria Compact Supreme Motorhomes
Small but perfectly formed…
The Adria Compact Supreme range for 2023 is everything you could wish for from a sub-six motorhome. These slim, sleek, compact vans, offer all of the touring capabilities of a much larger motorhome, ingeniously fitted within a much more convenient space. Four layouts include three, three-berth models and one, two-berth (the Compact SC). Each comes complete with a punchy new Fiat 6D 2.2l engine (with an automatic gearbox upgrade optional), Truma heating as standard, and a contemporary interior with high specification fittings. The 'Sandy White' style furniture complements the chic, soft furnishings to create a calming and relaxing atmosphere. The ingenious use of space means you get everything from a smart kitchen to a duplex bathroom, all within a motorhome which comes in at under 3.5 tons in weight.
The new 2023 Adria Compact supreme motorhome range has been designed with the sporty and adventurous in-mind. The driving capabilities of the powerful engine, low weight and body width of less than 2.12m, mean this motorhome is ideal for 'off-the-beaten-track' adventures as well as, sporting weekends away. Everything has been thought of, including an extra-large garage space for sporting equipment including bicycles, as well as additional upgrades, including a roof-mounted air-conditioning unit, 100w solar panel and tow bar. If it's the luxury of a coachbuilt you're looking for within the dimensions of a panel van, then the Adria Compact Supreme motorhome range is definitely for you! Why not pop along to Wandahome South Cave and find out more today.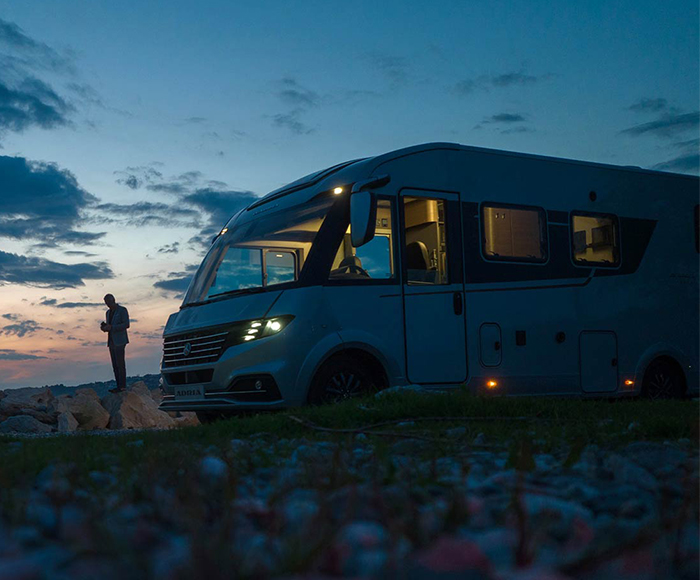 Adria Supersonic Motorhomes
Adria's flagship range…
Step into the Supersonic, presenting the very best that A-class touring has to offer. Adria's luxury flagship range showcases premium Mercedes-Benz engineering, and exudes elegance and sophistication. It's built to last. Choose from twin beds, fixed doubles, electric drop down beds and L-shaped seating for ultimate comfort. All four impressive layouts make the most of the spacious interiors, with innovative design features, cleverly thought out to help you to get the most out of your next adventure.
The Supersonic is packed full of practical features and utilities including a three-burner hob and premium Kerrock work surfaces in the kitchen, a separate shower and toilet layout to the rear, along with private sleeping accommodation – complete with plush mattress for the best night's sleep. The Supersonic boasts home-from-home living at its finest, with plenty of storage solutions and additional mod-cons including the Adria digital control panel for lighting and main utilities. Looking for some of the best luxury on the market? Get in touch about the Adria Supersonic today.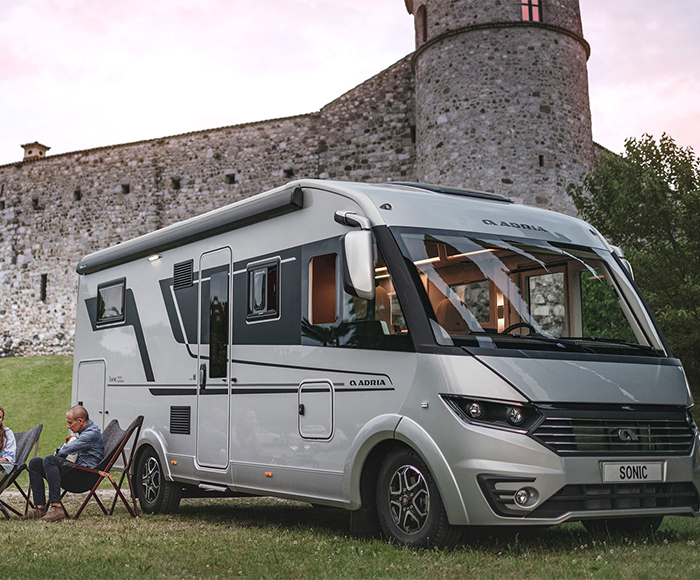 Adria Sonic Motorhomes
Superb A-class…
The 2023 Adria Sonic Supreme is the perfect choice for anyone looking for an A-class motorhome on a smaller scale. An exceptional combination of style and functionality, the Sonic Supreme is built on the high-performance Fiat low-frame chassis with durable 'Comprex' body construction – made to last. Featuring sleek silver exterior graphics and distinctive styling, the Sonic Supreme boasts three impressive layouts, each maximising the contemporary living space, with sociable swivel cab seats, family dining area, fully equipped kitchen with solid laminate worktops and luxury bathroom.
Relax in style with a number of sleeping solutions from front liftable double to a fixed double bed in a private bedroom to the rear – each with quality sprung mattresses for the best night's sleep. There are also plenty of additional mod-cons including integrated blinds for extra ventilation, Alde heating and an adjustable lighting system. Find out more by contacting us here at Wandahome today!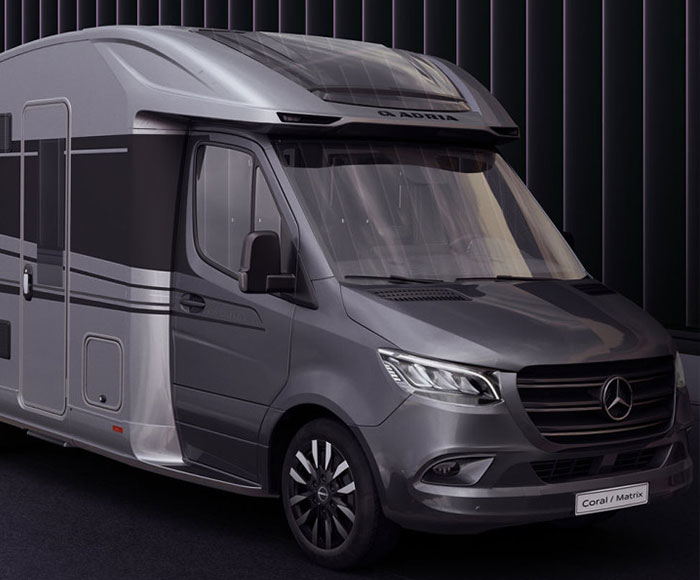 Adria Coral Motorhomes
The Adria Coral Supreme is one of the most popular motorhomes on the market, with seven exclusive models, each offering two to three berths. Built on the new Fiat Ducato (Euro 6.d Full), for exceptional reliability, the Coral Supreme range boasts sleek silver exteriors with LED lights, plus a garage to store all that outdoor equipment. The exclusive new generation Coral sunroof is a real crowd pleaser, letting the light flood in and giving you a front row seat to the sky above. It also adds the feeling of space and allows extra shading and ventilation to the living area.
Inside, there's so much scope to choose a layout that suits you. Choose from traditional twin beds, island beds and even convertible dinettes for the most comfortable on the road experience. In the kitchen, there's a three-burner hob and solid laminate Fenix NTM worktops, and a spacious bathroom with spotlights for a luxury feel. Feel at home with organised storage solutions as well as additional mod-cons including Alde heating and a sound system with hidden speakers.
As an official Adria dealership, we have the ability to order any of the new 2023 Adria motorhome ranges including the Adria Coral. Why not speak to a member of our team today to find out more regarding what stock we have on our forecourt, and how you can place an order.