252 caravans and motorhomes now in stock
All our stock is 70 point checked and prepared before sale
Explore our vehicle display in its tranquil 16 acre woodland site
The new 2022 Swift caravan ranges
The 2022 Swift Caravan Ranges
Discover ten exciting ranges including two Special Editions...
With the new 2022 Swift Ace Special Edition, Swift Basecamp, Swift Challenger, Swift Challenger X, Swift Conqueror, Swift Corniche Special Edition, Swift Elegance, Swift Elegance Grande, Swift Sprite and Swift Sprite Super caravans available at Wandahome.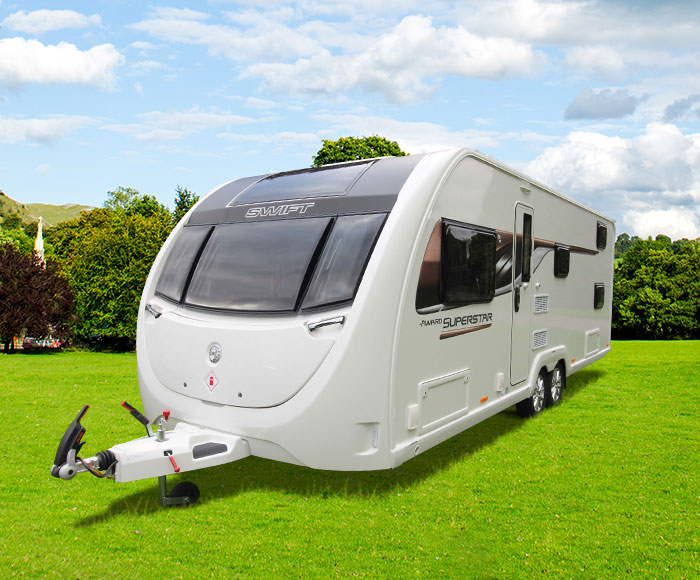 Swift Ace Special Edition Caravans
Our best-selling special edition tourer...
The Swift Ace caravan range is our best-selling range of Special Edition caravans to date. There are 11 models to choose from with a variety of different layouts to suit all requirements. The best-selling Swift Ace caravan range features a huge array of layouts with everything from a super luxurious island bed to standard twins, convertible dinettes and even bunk beds. There is even the option of an innovative 8ft wide model for those who love their space. The entire range is packed full of high specification features, including the much sought after 'Diamond Pack' which comes as standard.
With this pack expect to receive a 100W solar panel for off-grid adventures, an external 240V socket and gas BBQ point for barbequing with friends and family, as well as exclusive high-level upholstery for a five-star 'hotel-like' experience. This list is just a small taster when it comes to the additional decals you receive when you buy a new special edition caravan. To find out the whole list or, enquire about a particular model, then why not pay us a visit and view all of our Swift Ace special edition caravan models now at Wandahome South Cave.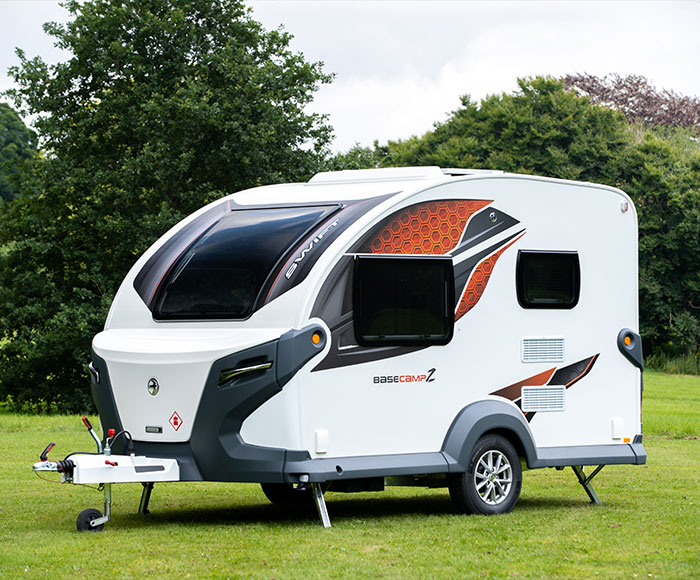 Swift Basecamp Caravans
For the sporty and adventurous...
Swift introduces the new Swift Basecamp caravan range for 2022 and what's more, it is lighter and more compact than traditional caravans thanks to the new AL-KO AKS 3004 stabiliser, making it towable by different sized cars. Over three different models, the Basecamp can berth two to six people, making it ideal for solo travellers or family excursions and with its stylish tangerine interior, you'll be warm and comfy. Even if it's cold outside, the Whale air blown heating system will keep you cosy and warm.
The new Swift Basecamp caravan models utilises a Duplex Thetford full oven and grill, making dinning and entertaining friends as easy as ordering out and if you're worried how to do this in the smaller two-berth, don't be: the dining area is easily convertible, as is the larger six-berth which transforms into a relaxing twin bunk. The four-berth even comes complete with its own dining area. If you want to accommodate more people, then the Vango Airbeam Awning will provide the space and offers all season protection to do so. Discover all the latest new Swift Basecamp caravans in store at Wandahome South Cave today.Copy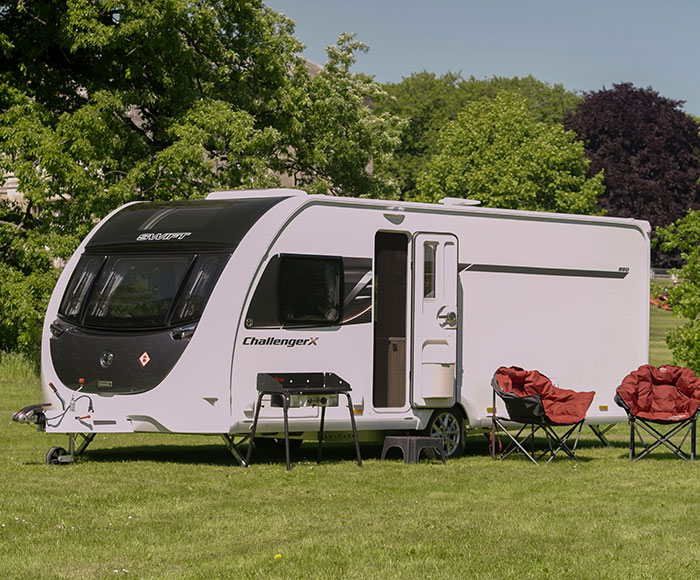 Swift Challenger & Challenger X Caravans
The all-rounder of touring caravans...
If you are picky for interiors, then look no further than the new Swift Challenger caravan range and the 8-ft wide Challenger X models. With its calming and soothing range of earthy shades, the Swift Challenger series is for those who want to sink into comfortable bliss, thanks to the GRP hail-resistant exterior, you'll get a sound sleep whatever the weather, especially with the luxurious wide-ranging convertible, traverse or standard beds available across the standard and X models. Swift has something for everyone in the 2022 Swift Challenger caravan series. For maximum interior comfort, the series also provides a panoramic front sunroof, enabling lots of light to flood in and an adapted curved blind system to keep light out when required.
Don't think for a moment that structural integrity has been sacrificed though, as the Swift Challenger series is constructed from PURe, a polyurethane material to provide all season water resistance, plus it's also constructed using CFD's to provide lower fuel consumption. If you're travelling long distances, the new Swift Challenger has an integrated stabiliser and shock absorber to make safer and easier. So, with four models to choose in the Challenger X range and nine standard Challenger models, we're sure there's something for you.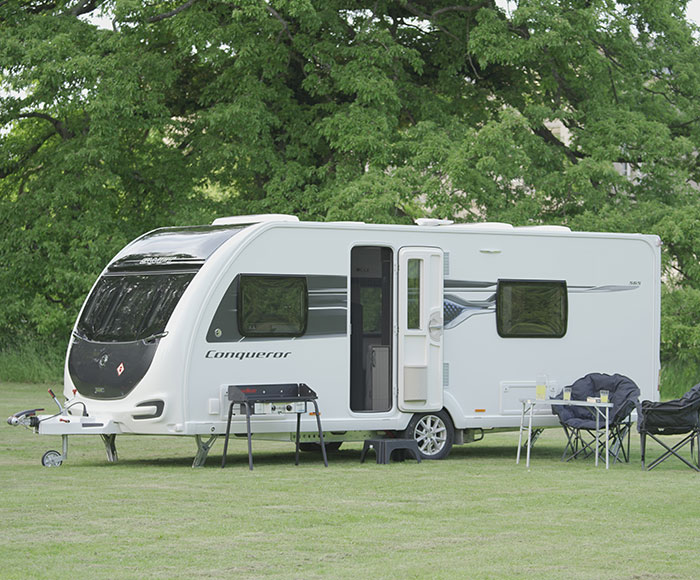 Swift Conqueror Caravans
Conquer any holiday or adventure...
Nothing says holiday louder than the new 2022 Swift Conqueror caravan collection. This stylish and great value caravan has been internally designed with zinc grey soft furnishings to give you down-to-earth relaxation and comfort while either stationary or on the move. The sleek white-grey cabinets provide secure storage with self-locking latches, so you don't have to worry about spillages or injuries during your travels. If you crave a silent sleep while roaming, then Swift has got your back as the new Swift Conqueror caravan range has a GRP roof which is soundproofed and impact resistant against hail and rain.
Swift want you to enjoy your travels to their fullest and have included an onboard 30 litre water tank that can be pumped or directed into the taps, so now you can go further for longer without a direct water source. If you need to recharge your batteries then the Swift Conqueror caravan comes with a roof-mounter 100W solar panel to give your stored energy when you need it. Be dazzled with the panoramic front sunroof that allows for extra light entry into the caravan so even on those days spent inside, you get plenty of light. Discover all the latest new Swift Conqueror caravans in store at Wandahome South Cave today.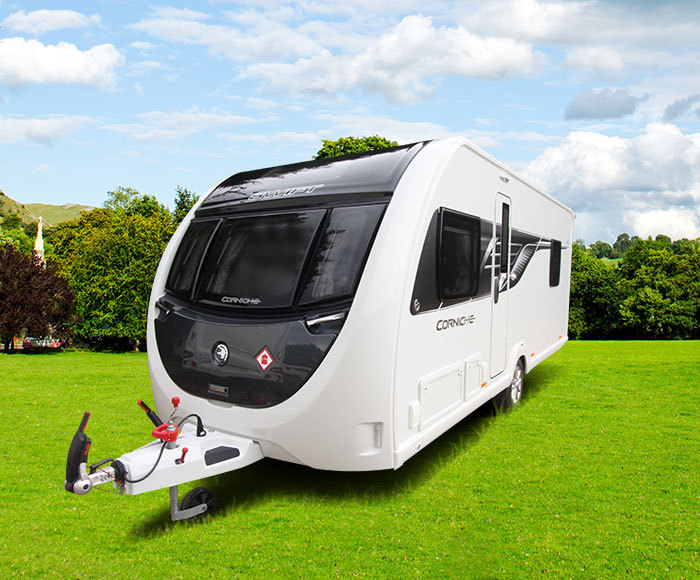 Swift Corniche Special Edition Caravans
Putting the 'Special' in special edition...
Exclusive to Wandahome, the new Swift Corniche caravan range has been upgraded and re-designed for 2022. With nine popular layouts to choose from and the highest specification we've ever had on a Special Edition, we are certain the 2022 Swift Corniche will prove to be a firm favourite. Unique to Wandahome, the Swift Corniche range, based on the Swift Challenger comes complete with a series of upgrades that come as standard only as part of a Special Edition range. As well as a 100w solar panel, also expect as standard an alarm, Wet central heating systems and microwave, to name just a few of the free features.
As with the Challenger the Swift Corniche range features layouts that range from a convertible dinette to a luxurious island bed, transverse double and even standard twins. Every effort has gone into the design of these unique models, to ensure they are of the highest specification possible. As a leading Swift dealer we are proud to partner every year with Swift, to try and enhance the overall experience you receive as part of your caravanning adventures. We are pleased to offer the new Swift Corniche caravan range for 2022 as part of our special edition caravan offering, and we're positive you will love them!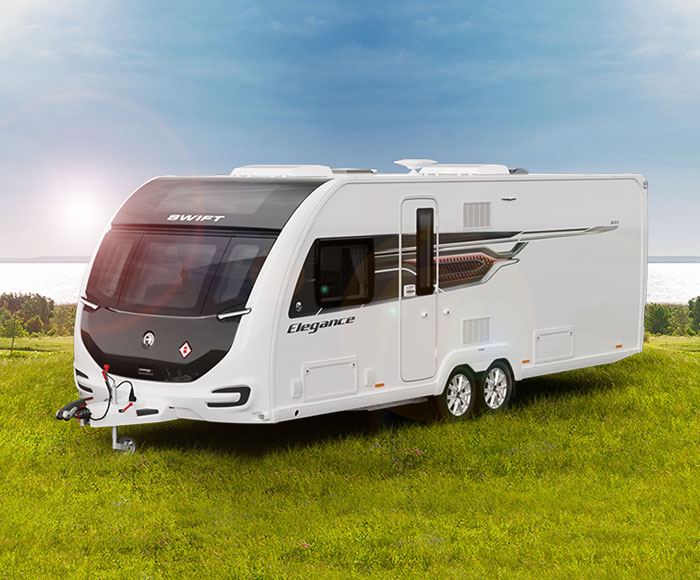 Swift Elegance & Elegance Grande Caravans
The name says it all...Elegance...
The new Swift Elegance caravan is named so because it simply is elegant. With the new 'Ultraleather Brisa' soft furnishings and the introduction of the Alde underfloor and central heating system, you'll struggle not to be comfortable day and night. If that's not enough, then Swift have also upgraded the kitchen with the new Dometic flatbed microwave with digital controls, making mealtimes easier and more convenient for when you want to get up and go. Just to keep the interior of the new Swift Elegance caravan range smelling nice, Swift have now included the new kitchen extractor hood, so those horrible smells are filtered out without having to open the door.
Interior upgrades aren't the only new features to the Swift Elegance. Because we want you to be comfortable and safe, Swift Elegance caravans now have improved rain guards to keep the noise of the beating rain to a minimum and to increase the rate of heat retention, so no matter the weather, you'll always find comfort and safety inside your home-away-from-home. The new 100W roof-mounted solar panel will help you go further with your travels with the ability to store energy so you can charge and run your devices when you need to, even off-grid!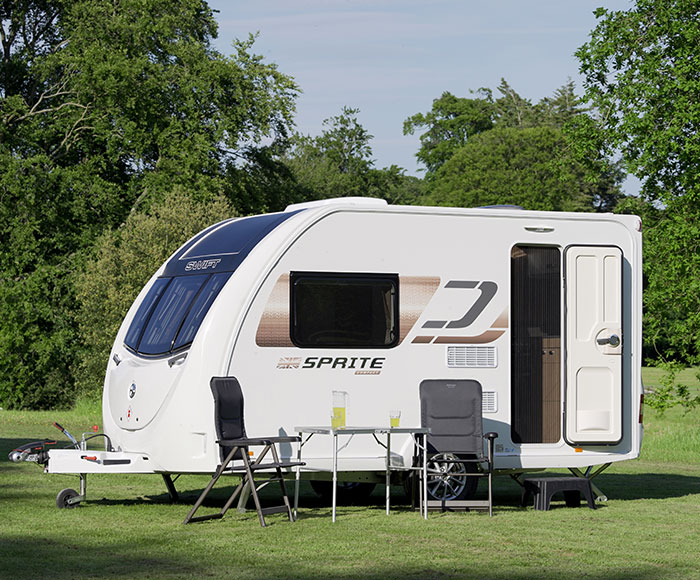 Swift Sprite & Swift Sprite Super Caravans
Introducing the new Swift Sprite Compact...
The new Swift Sprite caravan range is back with upgrades and a new design, capitalising on small comforts, this comes to a head with the new 2022 Swift Sprite Compact release. The perfect opportunity for first-time buyers, the Swift Sprite Compact is designed for ease of use and gentle familiarity, making it safe and stable without sacrificing the levels of comfort Swift are reputed for, so you won't be intimidated or uncomfortable with getting hands on with your first caravan. It's also perfect for solo travellers with its small size and lighter weight.
New Swift Sprite caravan interiors have also undergone some positive changes with the addition of the Dometic Series 10 undercounter fridge with a 98-litre capacity and a removable freezer compartment, providing you with larger and better food storage. To make your travels easier and more convenient, Swift have introduced to the Sprite range, dedicated underlocker USB points so you can charge or run your devices with better accessibility. The interior of the new Swift Sprite caravan range is furnished in 'Langholme' with beautiful rustic colours of autumnal reds and ochre, making the interior as comfortable on the eye as it is the body.