166 caravans and motorhomes now in stock
All our stock is 70 point checked and prepared before sale
Explore our vehicle display in its tranquil 16 acre woodland site
Presenting our new and improved 2021 special edition Swift caravans including new 8ft wide caravans, exclusive to Wandahome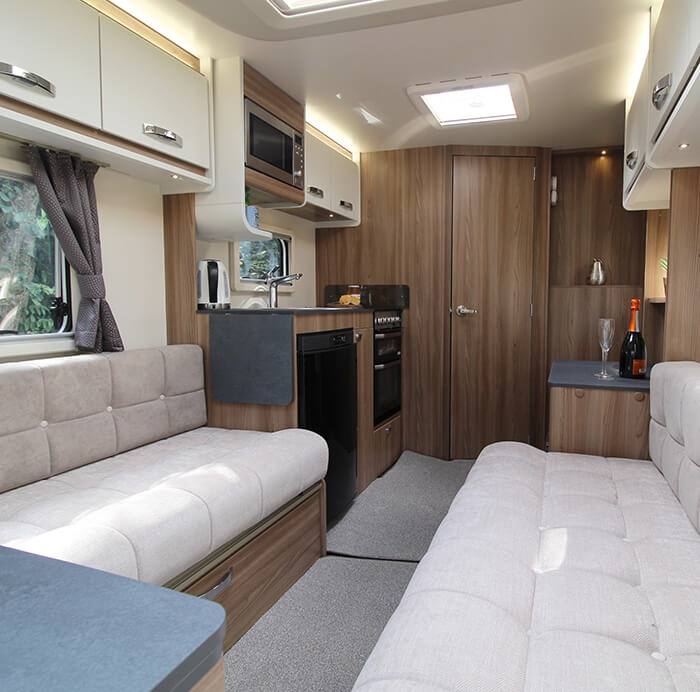 Swift Ace caravans, a firm UK favourite special edition
2021 range
Here at Wandahome we are once again proud to be the only dealer of the exclusive Swift Ace caravans for 2021. Since its introduction in 2013, the Swift Ace has eight years of continuous development in its making, with high quality workmanship visible throughout and intricate details around every corner, it's no surprise that these 8ft wide caravans have an ever-growing popularity amongst our customers.
As an exclusive brand, Wandahome South Cave offers these iconic Swift Ace caravans in a vast range of flexible models and layouts to suit every adventurer's needs, from two to six berths with three visionary 8ft wide caravans available. These spacious caravans ooze personality and luxury, with Darwin soft furnishings creating a cosy space so you can feel at home no matter where the world takes you.
All the choice you could wish for to find your perfect companion
It's hard not to feel spoilt for choice when it comes to the Ace, with an attractive line up consisting of seven Swift Ace caravans and three Swift Ace Award caravans in an 8ft wide. bodyshell, you're sure to find the perfect fit for you as though it was tailor made. The Ace collection is comprised of amazing layouts including luxurious island beds, full width end washrooms, front parallel seating and side dinettes, the Ace has class whilst remaining competitively priced. The entire range is packed full of high specification features, including a much sought-after Diamond Pack, a 100W solar panel for even the most remote adventures, an external 240V socket and gas BBQ point for those essential summer barbeques, exclusive high-level upholstery for a five-star experience, an additional sunroof to bring nature in and a whole host of extras, all fitted as standard. The Swift Ace range combines sophistication and practicality to deliver a range of flexible options suitable for each and every unique adventurer.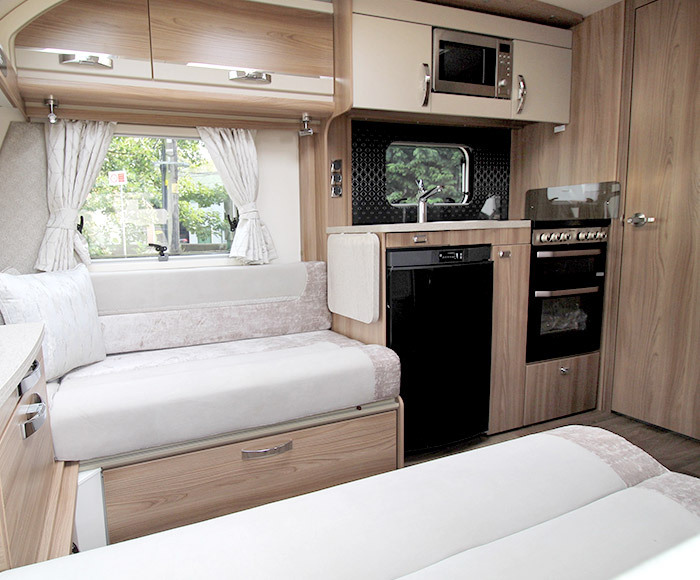 2021 Swift Corniche - perfect for a couple's retreat or family holidays
8ft wide caravans included
Returning to Wandahome once again for 2021, the Swift Corniche caravan ranges are beautifully designed to emit a luxury feel without the luxury price tag. The Corniche is a real home-from-home, with its warm and cosy interior, now featuring new luxurious upholstery for 2021, you're sure to feel relaxed in the compact and the lavish 8ft wide caravans. Featuring two and four berth layouts, the Corniche has an option for everyone.
The 2021 collection of Corniche caravans is made up of eight different layouts, and with three 8ft wide caravans available there's room for everyone to enjoy your staycation. Among the Corniche collection, you can explore a vast array of layouts, including fixed rear island beds, parallel lounges, L-shaped lounges, end washrooms and so much more.
Corniche - Affordable luxury
Expertly designed with a high-end specification, the Swift Corniche is the perfect luxury caravan for couples and families, the Corniche has everything you need and more. The 2021 Swift Corniche caravans come with an ALDE heating and ATC fitted as standard, so you can travel comfortably all year round. Its new and improved upholstery creates a modern and luxurious interior that impresses as soon as you step foot inside, with expertly crafted design in every corner the Corniche maximises space whilst improving functionality. Complete with impressive features such a stylish illuminated kitchen splashback, external BBQ point, 230V socket, external service door and key fob operated alarm system for your peace of mind and so many more features completely inclusive in the price, the Corniche has so much to offer.