252 caravans and motorhomes now in stock
All our stock is 70 point checked and prepared before sale
Explore our vehicle display in its tranquil 16 acre woodland site
The new 2022 Bailey motorhome ranges
The 2022 Bailey motorhome ranges
Discover two exciting new Bailey motorhome ranges...
2022 see the return of Bailey's award-winning flagship range the Bailey Autograph as well as the much-loved Bailey Adamo.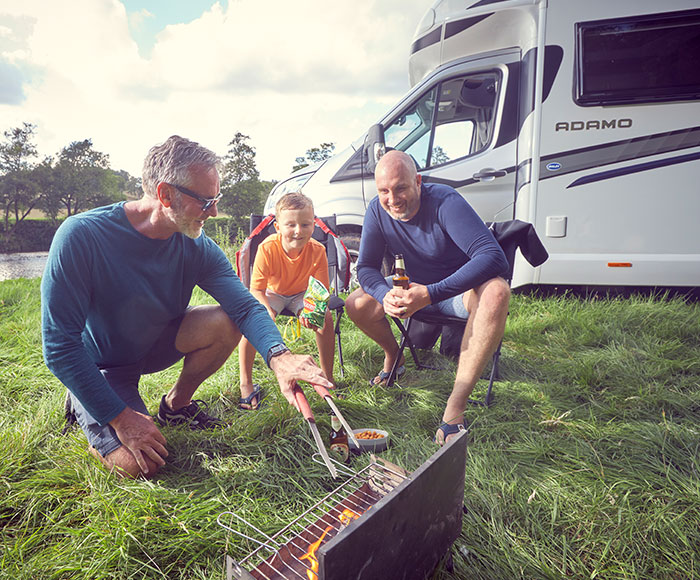 Bailey Adamo Motorhomes
The lightweight motorhome from Bailey...
2022 sees the return of the ever-popular new Bailey Adamo motorhome range. A lightweight, agile and compact motorhome range, there are three models on offer this season all within the 3.5 tons bracket. This means these exquisite motorhomes can be driven on virtually any UK licence and are perfect for first-time motorhomers. The Ford chassis now comes complete with a standard automatic transmission, so driving has never been easier. All Bailey Adamo motorhomes are four-berth with the option of an island bed on the 75-4I, a rear u-shaped lounge on the 75-4DL and a large rear garage suitable for carrying bikes and other sporting equipment on the 69-4.
New features for 2022 Bailey Adamo motorhome range include, the exciting and innovative Flexi-lounge with Aguti convertible traveling seats. This feature enables four passengers to be carried safely whilst in transit whilst turning into a comfortable seating area to relax in at night. The four-season Truma combi heating systems also comes as standard now, so no matter where you are in the world, be it the Scottish highlands or the Alps, you will never have to worry about the elements.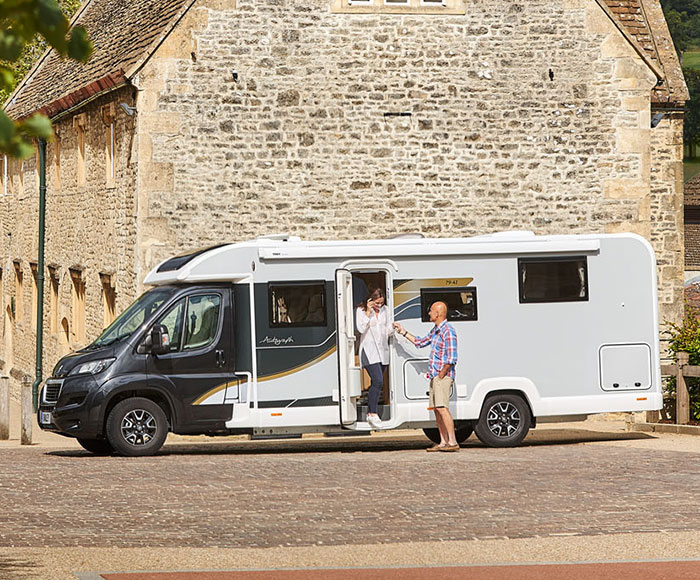 Bailey Autograph Motorhomes
The award-winning Flagship range...
Bailey's flagship motorhomes range is now in its third generation for the 2022 season. After an award-winning year with the Bailey Autograph 81-6 scooping the prize for the best 6-berth motorhome at the Practical Motorhome Awards for 2022, the new Bailey Autograph motorhome range continues to impress and innovate. With eight layouts to choose from in total, ranging from two to six berths, there is a whole host of different variations to choose from, be it a rear island bed model, transverse double, front drop-down bed or even practical twin beds.
As well as extensive configurations, the new Bailey Autograph motorhome range now features the new Peugeot Boxer 2.2 Blue HDi high performance engine, making these models a dream to drive whether it be on long touring holidays or weekend trips away. New features included as standard for 2022 also comprise of, a Truma 100w solar panel, Thule wind out awning, Alde central heating and brand-new 'Farringdon' soft furnishings. Every detail has been carefully thought out to ensure that you have all of the home comforts you would usually associate with a five-star hotel. As always, Bailey have outdone themselves with this award-winning flagship range. Find out more about our new 2022 Bailey Autograph motorhomes today.