252 caravans and motorhomes now in stock
All our stock is 70 point checked and prepared before sale
Explore our vehicle display in its tranquil 16 acre woodland site
The new 2022 Bailey caravan ranges
The 2022 Bailey caravan ranges
Discover five exciting new Bailey caravan ranges ...
With the new 2022 Bailey Alicanto Grande, Bailey Discovery, Bailey Pegasus Grande, Bailey Phoenix+ and Bailey Unicorn V caravans available at Wandahome.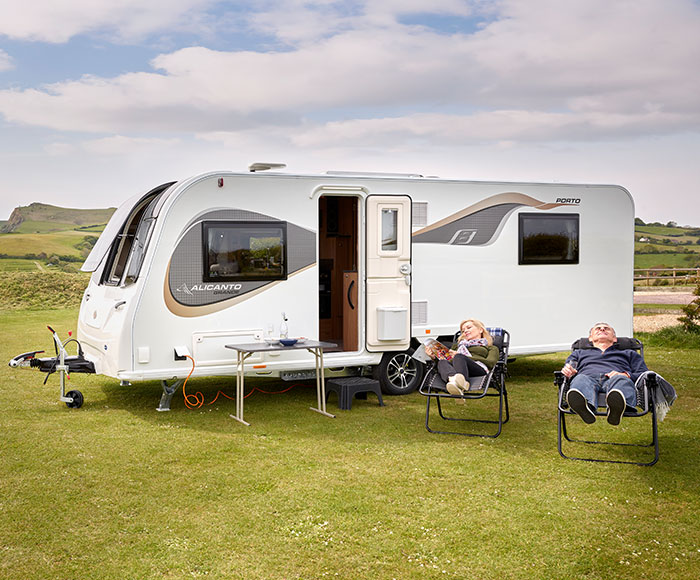 Bailey Alicanto Grande Caravans
8ft wide luxury...
The award-winning Bailey Alicanto Grande caravan range is a four model collection of four-berth caravans, which make up Bailey's flagship range. All models are 8ft wide and these super spacious new caravans are ideal for those with families or couples looking for a bit more space to move around in. 2022 sees an additional 10% of extra floor space than last year, as well as a whole series of new extras fitted as standard as well as upgraded technology.
Named after Portuguese cities, the Faro and Porto are twin axle models whilst the Estoril and Sinatra are single axle. All new Bailey caravan models are front lounge in configuration and contain a series of sleeping arrangements including a transverse island bed or front-facing island bed, all with new memory foam mattresses. The L-shaped kitchens come complete with Perspex splashbacks and branded 800w microwaves which are new for 2022. It's the little extras that make this range so special and no stone has been left unturned when it comes to comfort and cosiness. To find out more about the new 2022 Bailey Alicanto Grande caravan range now at Wandahome South Cave.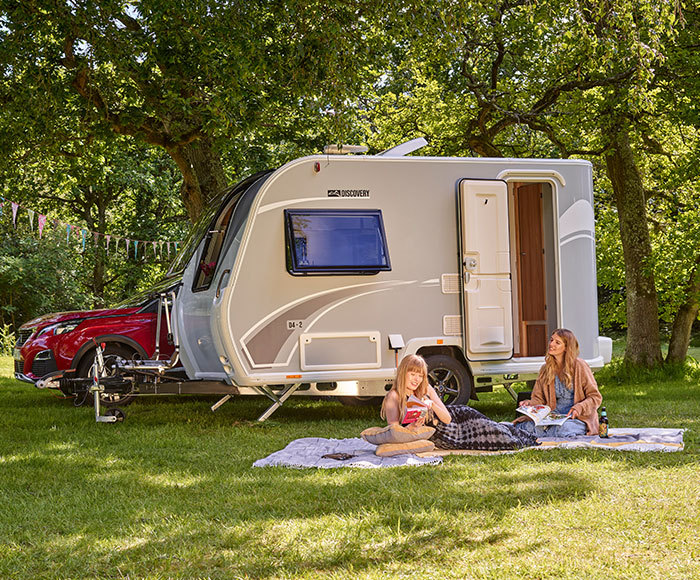 Bailey Discovery Caravans
Lightweight, agile and aerodynamic...
The most compact and lightweight of Bailey's new caravan ranges the new Bailey Discovery caravan range is perfect for the traveller on the go. The D4-2 weighs in at a total of 995kg meaning, not only can it sit on most driveways with ease, but it is great for manoeuvrability and those new to the caravan market. In fact new laws from November 2021 mean that now anyone with a category B licence can tow a caravan up to 3.5 tons. The three models in the 2022 Bailey Discovery collection range from two to four-berths and include Bailey's legendary Alu-tech technology with its durability and improved aerodynamics. The vertical opening front skylight is a great addition to the range and means that the lounge opens up on summer days, flooding the interior with light and a feeling of space. In winter the Truma combi blown air heating system ensures that even on the coldest nights you can stay toasty and warm.
Each new Bailey Discovery caravan now comes complete with exclusive accessories including a PRIMA wraparound awning, Thetford Triplex combi oven, grill and gas burner hob and sleeping arrangements ranging from a convertible dinette to a fixed French bed to the rear. Ideal for weekends away or sporting events, these caravans combine cutting-edge technology, durability as well as al you could possibly need to enjoy a comfortable weekend away. Find out more about the new Bailey Discovery range today.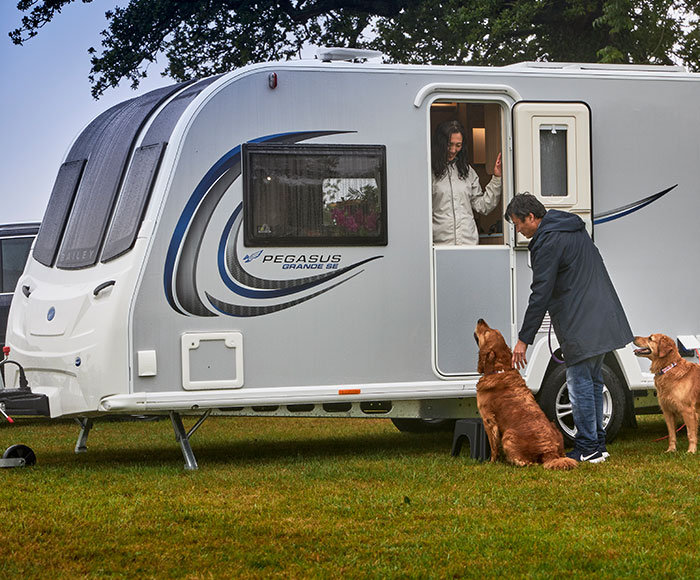 Bailey Pegasus Grande Caravans
Award-winning, spacious interiors...
The Bailey Pegasus Grande SE caravan range is back after another award-winning season for 2022. Seven models ranging from four to six-berths make up this stellar collection and create a series of models ideal for families. In fact, the Bailey Pegasus Grande SE Ancona won the best caravan for families at the latest Practical Caravan Awards. All models are now 8ft wide and contain an additional 25% of living space within the interiors. The new G-shaped lounges have been designed with entertaining and families in mind, and it is the extras that make this range so very special. Now included as standard you get not only a Truma 100w solar panel for off-grid adventures, but a Truma combi blown air heating system for those chilly winter nights. The new light-oak furniture scheme create a sense of tranquillity and comfort whilst the neutral soft furnishing add a sense of panache.
Within new Bailey Pegasus Grande SE caravans configurations include, front living rooms, a G-shaped rear lounge, French beds, twin beds and even bunk beds in the Pegasus Grande SE Palermo. Named after Italian cities the Bailey Pegasus Grande caravan range puts the SE into special edition and you won't be disappointed with these high specification, practical, premium caravans. Contact us at Wandahome South Cave for more information today.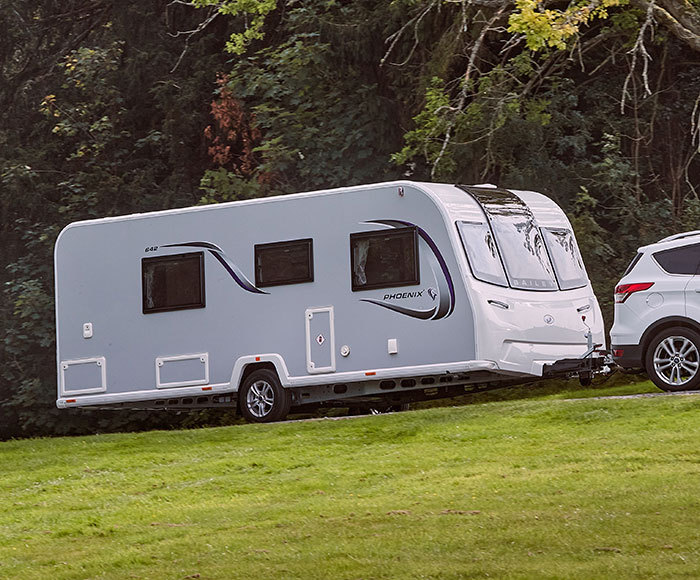 Bailey Phoenix+ Caravans
Versatile, practical and functional luxury...
The new Bailey Phoenix+ caravan range is a series of two to five-berth caravans in six functional and versatile layouts. Complete with a brand-new look for 2022 this range proves popular every year with our customers due to its light weight and sheer variety when it comes to configurations. From the two-berth Bailey Phoenix+ 420 weighing in at just 1.1 tons, to the five-berth 650 complete with bunk beds, there is a model for every occasion and family. Models include sleeping arrangements with French beds, twin beds as well as island beds both in standard format and transverse.
This year within the new Bailey Phoenix+ caravan range, the vertical opening skylight returns to create that sense of open-air living and extras include not only a 700w Dometic microwave with non-moving ceramic hotplate, but a Truma Combi blown air heating system. The 'Chesham' soft furnishing scheme complements the 'Light Oak' furniture and 'Nordic Stone' worktops to create a truly inspiring interior. The Italian design really comes through in the 2022 collection of Bailey Phoenix+ caravans and we're sure you are going to love them!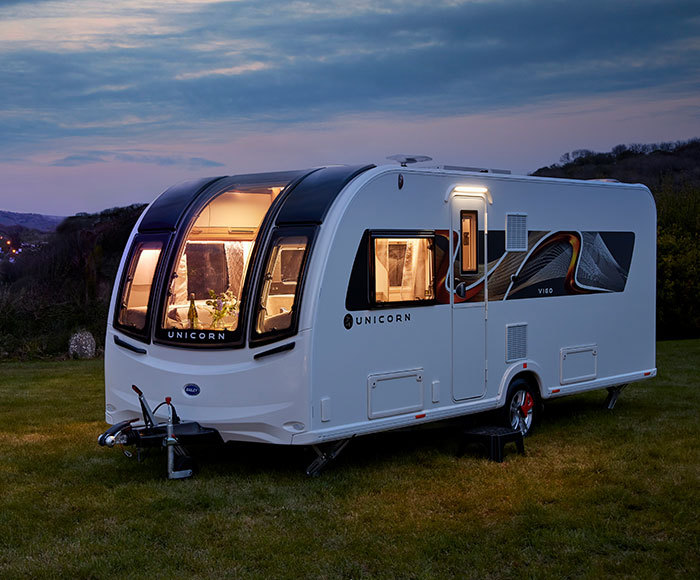 Bailey Unicorn V Caravans
The fifth generation is here...
The new Bailey Unicorn caravan range is now in its fifth year and as such has been aptly named the Unicorn V. Seven models make up this two to four-berth range and each one has been carefully thought out, to include sleeping arrangements and configurations for every occasion. From convertible dinettes to twin beds, end bathrooms and island beds in both standard format and transverse, you can choose what is right for you. Variety is the key within this range and models range from the two-berth Seville to the four-berth, twin axle Pamplona.
Improvements and innovations for the new season include a vertical front exterior infinity window with a 50% increase on window size from last year, a Truma 80w solar panel (fitted as standard) and Alde radiator central heating system. Bailey have also included for 2022 a new Tracker Monitor system with integral intruder alarm to improve security and give peace of mind this year, ensuring you won't have to worry about leaving your caravan unattended. Named after Spanish cities the new 2022 Bailey Unicorn V caravan collection has a real air of the continent about it and we're positive you are going to love these exquisite new caravans. Contact Wandahome South Cave today for more information.